"Somehow, by coming to us, they feel that we will take care of them and find them a nice home, and we strive to do that," she said.
Ms Howcroft and co-curator Deborah Bannister have forged a close friendship and a passion for fashion that the pandemic has not quashed.
"I find that I get so involved in certain pieces," Ms. Howcroft says. "You can tell a lot about the wearer from the coins, or you make up a story in your head about them."
"Things that are worn well – a ball gown or a gorgeous dress – you think, 'Oh, they loved that.' "
Loading
The sale's storage space – the old coach house, driver's apartment and stables at the Rippon Lea estate in Elsternwick – is packed as the event hasn't taken place for two years due restrictions related to COVID-19.
Highlights for sale this year include:
A 1960s royal blue woolen overcoat from the French brand Pampelone de Racine – $200.
A beige silk evening jacket with intricate white sequins by Collette Dinnigan – $50
A multicolored Hermès silk scarf, still in its box – $300.
A pair of brown high-heeled Christian Dior shoes by Roger Vivier, circa 1940s to 1960s – $100.
A baby pink evening dress in broderie anglaise with ruffled shoulders – $80.
Four or five times a year, Trust volunteers are invited to choose clothes from the homes of deceased estates.
Ms Howcroft said several living donors travel to Italy every year "to buy their whole wardrobe and then they'll come back and give us quite often what they bought last year – designer items like Valentino, Armani , Ferragamo, Dolce and Gabbana Some of them still carry the label.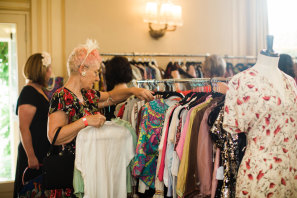 The first sale was in 2010 when Ms Howcroft and a now retired Trust volunteer, Nance Houen, held a garage sale at Ms Houen's Canterbury home which raised over $10,000.
For the third sale in 2012, they used the Como House ballroom and raised nearly $30,000.
In 2019 the sale took up all the ground floor rooms in Como, with a long queue before it opened, and so this year it will be in more cavernous excavations at the former industrial school of the Convent of Como. 'Abbotsford.
The price of the pieces will vary from a pack of linen handkerchiefs for $5 to a fur coat for $900. Ms Bannister said she was 'nervous but excited' that the sale would return after a two-year absence.
Ms Howcroft joked: 'We want to get rid of it and start over for next year.'
Selling vintage has become a much-loved part of his life. "Especially in COVID – I was so relieved to have something to focus on during the shutdowns, even if it was sifting through stuff at home."
A cultural guide to go out and love your city. Sign up for our Culture Fix newsletter here.